EPA published a list of companies approved to export CRTs for recycling. Companies listed have been approved to export whole CRTs, broken CRTs, or unprocessed CRT glass for recycling under EPA's CRT rule (view list).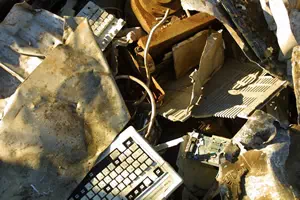 Overview
The term "e-waste" is loosely applied to consumer and business electronic equipment that is at the end of its useful life. Used products that are commonly thought of as e-waste include computers and computer-related equipment (including keyboard, monitors, printers, etc), cell phones, televisions and radios. However, there is no clear definition for e-waste; for instance whether or not items like microwave ovens and other similar "appliances" should be grouped into the category has not been established.
Under the Resource Conservation and Recovery Act (RCRA), e-waste is not an official category of waste like hazardous waste or universal waste. However, that does not mean that e-waste is unregulated; in fact, much of it is regulated since certain components of many electronic products contain materials (e.g., lead, cadmium) that render them hazardous under RCRA, depending on their condition and density.
One of the most voluminous e-wastes is cathode ray tubes (CRTs). EPA has provided conditional exclusions from the federal hazardous waste management standards for CRTs and CRT glass destined for recycling. These simplified standards aim to increase the collection and recycling of CRTs, and to reduce the amount of lead in landfills by allowing the lead to be reused to make new CRT glass or sent to lead smelters.
Under these regulations, used, unbroken CRTs are not regulated as hazardous waste unless they are stored for more than a year.
Used, broken CRTs are not regulated as hazardous waste as long as the following conditions are met:
CRT containers are clearly labeled regarding contents;
CRTs are safely transported in containers designed to minimize releases;
CRTs are stored in a building or container designed to minimize releases; and
CRTs are stored on site less than one year before recycling them.
To remain unregulated, CRTs undergoing glass processing must follow the same requirements, except they must be processed inside a building, at temperatures not high enough to volatilize lead from the glass. CRT glass that has been processed and sent to a CRT glass manufacturer or a lead smelter also is unregulated unless it is stored for more than one year or used in a manner constituting disposal (applied to the land). CRT glass going to any other kind of recycler may be eligible for exemption under existing regulations.
Imports and Exports of E-Waste
General. With the exception of CRTs (see below), when e-wastes fall into either hazardous or universal waste categories, the same applicable federal rules for imports and exports apply (see either hazardous waste or universal waste and hazardous waste destined for recycling).
CRTs. On June 18, 2014, EPA finalized revisions to the export provisions of the 2006 CRT final rule. The revisions are effective on December 26, 2014.
These changes will allow the Agency to obtain additional information to better track exports of CRTs for reuse and recycling in order to ensure safe management of these materials. Specifically, the rule:
Adds a definition of "CRT exporter" to eliminate potential confusion over who is responsible for fulfilling CRT exporter duties, including submitting the export notices.
Requires information on all interim and final destinations for CRTs exported for recycling to provide more complete information to receiving countries.
Requires annual reports from exporters of used CRTs sent for recycling to provide EPA more accurate information on the total quantity of CRTs exported for recycling during a calendar year.
Replaces the one-time notice for used CRTs exported for reuse with an expanded, periodic notice to improve tracking, and thus better management, of these CRTs.
Requires that normal business records maintained by exporters of used CRTs for reuse be translated into English upon request.
State Regulations
States have taken a variety of approaches toward e-waste and especially CRT management. Some states, such as Massachusetts and Florida, have taken steps to streamline hazardous waste regulations for CRTs, resulting in higher levels of recycling. On the other hand, California considers CRTs to be spent materials and regulates all CRT as hazardous waste, i.e. they are banned from landfills. Many states are currently developing Universal Waste exemptions for CRTs. Minnesota, in particular, considers CRTs to be electric lamps, which are already part of that state's Universal Waste Rule. New York utilizes its scrap metal exemption for whole intact CRTs that will be recycled. For more information on state rules, see the state locators for hazardous waste and universal waste.
More Resources
Ecycling. EPA webpage the provides basic information about reducing electronics waste, frequent questions and answers about electronic waste, regulations/standards for handling electronic equipment, publications that offer valuable information about electronic waste, related links that include resources for recycling, and donation programs market trends in electronic waste generation and recovery.
Hazardous Waste CRT Rule Fact Sheet: Easier Recycling of Cathode Ray Tubes. Contains background information and a summary of the rule.
Hazardous Waste CRT Rule Revisions Federal Register Notice (June 26, 2014). The revisions require better tracking of CRT exports.